Sunday was a great day, not only did the Giants win the Super Bowl, but the Jason Wu Collection from Target finally came out! I had already purchased the three pieces I really wanted online in the early AM of February 5th, since I wasn't sure how much would be left when I finally made it to Target Sunday morning afternoon. I've heard some complaints in the Twittersphere of difficulty ordering online, but I didn't have any and I heard of worse experiences at Target stores. When we (my hubby and son came with me) arrived at Target I was a bit surprised at what I saw, considering that with Missoni there was nothing left and the Target employees at our store described that Missoni morning as if it were Black Friday!
I ordered the red and navy striped jersey dress and the pleated skirt in the navy floral (above) online, those were two items I didn't want to take any chances on being sold out when I was finally able to make it into Target, it was Super Bowl Sunday after all and I wasn't sure I'd make it to Target until Monday. The dress fit great, I ordered a medium and it was just right not super tight at all, which is how I would describe the Missoni collection; in my opinion their collection was aimed at the teenage girl.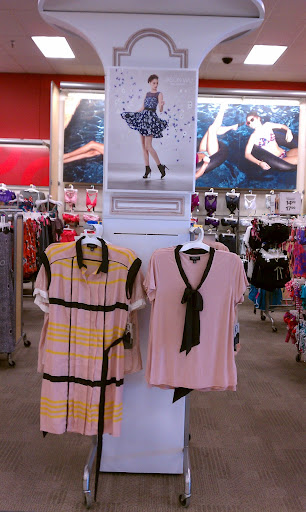 I really liked the bow tie blush tee...on the hanger, but not necessarily on me. I'm also not one with the bow making, my bows always coming out looking like I tried to tie a bow in the dark with me eyes closed. It did feel like it ran a bit big in my opinion.
I loved the look and feel of the heather gray tee with the lace down the middle it looked great with the black pleated skirt. I didn't buy this shirt even though I really wanted to because....
I found this dress instead! It's the dot print shirt dress, which to tell you the truth I didn't notice online and almost didn't pick up at Target, but since it was right next to Milu I gave it a try. I loved everything about it, the cut was great, the fabric felt soft and the bottom fell right at my knees but flares out a bit. It totally reminded me of a dress Lucille Ball would wear in I Love Lucy. You will need a slip underneath IMO, but that could just be me. Here's what the red and navy striped jersey dress looked like on.
This is the Milu tee with the black pleated skirt. I loved both pieces, but since I had my bodyguards with me I couldn't get them, alas when I went back Milu was gone. Sad day. But I refuse to go to ebay! I'll find it somewhere just not there.
When I went back in search of Milu, I also found that the heather gray tee in medium was gone as well, but since it was running a bit big and there were still size smalls left I decided to try one on and this is what I found (see below). The fabric in the shoulder area did a weird gathering/puckering thing. The tee fit fine except for that part so I didn't buy it and I was running short on time so I didn't go back to try another one to see if the same thing would happen.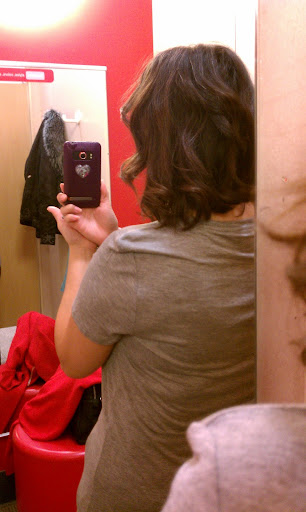 So there you have it, my Jason Wu for Target experience...for the moment anyway, since Target has said there's more pieces to come.